Our Story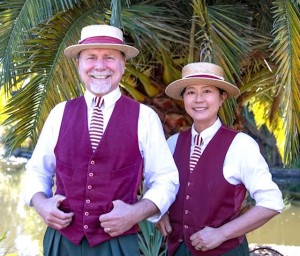 Wesley Golledge, one of the founders of Punting on the Lake, started punting when he was at uni. So beloved of the pursuit, he dropped out to go pro. Literally, he's still doing his student job. But why wouldn't you, when your daily office outlook is the tranquil vista of the Royal Botanic Gardens?
Not only does the job give Wesley an up-close encounter with the Gardens as the seasons turn, it's a free pass to chat with clientele as they glide over the RBG's ornamental lake. "My school report from my teacher Miss Wakelin when I was six years old said, 'talks too much'," Wesley says. "I'd like Miss Wakelin to know, I now get paid for it."
Wesley operates Punting on the Lake with his wife Ayami. As fate would have it, the pair met when Ayami was travelling New Zealand, which she'd visited as an exchange student in her teens. Her former host family collected her at the airport and whisked her straight off to punting on the Avon, where she spied Wesley playing ukulele on a punt. Somewhere in the background, Cupid was obviously drawing back his bow, because Ayami played uke too. But it didn't end there.
"I thought, 'what an amazing job he has, playing ukulele on a punt, talking to people, making people happy – I have to give this a go'," she recalls. Duly, Wesley gave her a crack at pushing the punt, and the deal was all but sealed. "I was only visiting, so I had to go back to Japan, but I thought, 'I think I'll risk it'," Ayami says. "I packed the suitcase, got the working holiday visa, moved countries and started living with Wesley. We'd only known each other a fortnight!" Of course, that was now more than 10 years ago. "Best thing ever," Wesley beams.
Ayami has the most fun CV. "I've never had an office job," she notes. Among other things, she's been a sign writer, a scuba-diving instructor in the Andaman Sea off Thailand, and taught ukulele to preschool kids. But punting takes the cake. Between the changing seasons, duckling rescues and the knowledge that she's chilling out her passengers – "they say it's so relaxing, like a massage" – Ayami is crystal clear. "It's the best job."
The company was first established in 2013 with long-time pal Nicki Baird, shortly after Ayami and Wesley moved down under. Although Nicki no longer works in the business, the family's still involved. Her son Ton is now one of the boater hat wearing team pushing punts.
Wesley and Ayami have been punting in many various places, attended the punt races on the Thames at Maidenhead and L'Isle sur la Sorgue in Provence, had lessons in Oxford and Cambridge, punted in Holland, Germany, the Czech Rebublic and of course in Japan..
They're dog friendly too. On that front, customers can book a trip with their four-legged friends, who can don mini candy-striped ties and boaters, just like Wesley and Ayami, for the ride. Check out the dedicated Insta (@dogsonthelake) – it's too cute.
Our Punts
Our three river punts are based on a traditional design from punts that are used on the Cam river in Cambridge, England, and adapted to modern boat building standards and Australian conditions.
The punts are built with local Australian timbers, mostly Victorian Ash and Jarrah. The hulls are marine ply instead of the traditional teak planks and caulking. Each punt is 8 metres long and weighs 320kg.
Our punts are named 'Victoria' after the state, 'Yarra' after the river that flows through Melbourne, and 'Charles' after the founder of the Royal Botanic Garden, Lieutenant-Governor Charles La Trobe.
Built in Christchurch, New Zealand by Jeff Walkerden, the punts were shipped to Melbourne, where they have been fitted with flotation foam by Nick Atkins, boat builder, at the Wooden Boat Centre in Docklands.
Being flat bottomed craft, the punts are very stable and comfortably seat 8 passengers on luxurious velvet cushions. They come equipped with blankets for cold weather and elegant white parasols for protection from the sun.
The punt poles are approximately 4m long and are made of Oregon. Each pole is fitted with a three-pronged steel "shoe" to create the least disturbance to the lake bed.